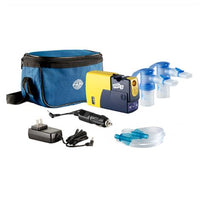 Pari Trek S Portable Compressor Nebulizer Aerosol System With A Rechargeable Battery And 2 Nebulizers
The bestselling PARI TREK S compact compressor is an innovative, portable piston-pump compressor with the power of a tabletop unit. With the DC adapter and the rechargeable battery, the PARI TREK S gives you the freedom to take treatments whenever and wherever you go.
The PARI brand LC nebulizer sets are staples within the industry, and are used by many drug manufacturers to test the medication. They are regarded as premier, TOP QUALITY nebulizing devices. With the purchase of this system you receive not 1 Sprint nebulizers and 1 disposable backup nebulizer  – making this bundle one of the best deals for hand held nebulizers!
The rechargeable lithium ion battery pack is long lasting. You can recharge the battery at any level without fear of losing the maximum charge capacity. The battery has about 1 hour of life per charge, allowing multiple treatments before you need to find an outlet. Say goodbye to costly traditional batteries! The PARI lithium ion battery is built to last. For added convenience, you can charge the battery using either the included home or car adapter.
Great for traveling Europe! This nebulizer is perfect for international travel as it includes a multi-voltage changer that can operate on all voltages ranging from 100 to 240 volts. All you need is an adapter plug for international outlets and this nebulizer is ready to go. With the optional rechargeable battery, feel confident as you travel the globe!
While this does include a long lasting air filter, you still to replace this unit's specific air filter every 6 months, so add some to your order to ensure you are always prepared for your treatment.
DESCRIPTION
Pari Trek S Portable Aerosol System with Battery Model 47F35LCS- 1 Each
Rechargeable battery has 50 Minute Battery Life and is Recharged within 2 hours.
Includes Pari Trek S Compressor, LC Sprint Nebulizer, Battery, Carry Case, Instructional DVD, Back-up Disposable Nebulizer and 12 Volt DC Adapter.
Comes with 1 Pari LC Sprint Reusable Nebulizer good for 6 months - Lighter, Smaller and Faster and a backup disposable nebulizer.
Small & Lightweight Compressor is designed for active patients who want to take their aerosol treatments anywhere and everywhere.
3 power source options- Worldwide AC compatibility (100 to 240V), 12 volt automobile adapter, and battery allow patients the freedom to take aerosol treatments away from home, in their car or around the world.
Weighs less than 1 pound and less than 2 pounds with the battery attached.
Powerful Compressor means Shorter Treatment Times
Compressor has a warranty of 3 years
Battery has warranty of 6 months
Quantity Per Sell: 1
SKU: 47F35-LCS