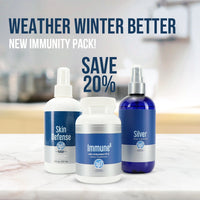 IMMUNITY PACK INCLUDES SKIN DEFENSE, SILVER AND IMMUNE 6


Immune Support

Promote a healthy immune system with Pure Encapsulations immune support dietary supplements. Our dietary supplements are scientifically created to support immunological homeostasis for a variety of applications, ranging from natural defenses to musculoskeletal health.

Immune 6
Provides the body with vitamins and fortification needed to sustain health and well-being. It can be taken daily throughout every season. Formulated with six powerful agents, Immune 6
contains the antioxidants vitamin C and selenium, as well as vitamin D3, all of which have been shown to support immune health.Our best defense against them is intact, healthy skin.

Excellent source of antioxidant vitamin C, an antioxidant that neutralizes free radicals and may contribute to healthy immune function Vitamin C also helps the body absorb iron, in addition to being important for skin, bones, and connective tissue.
Excellent source of vitamin D3 that helps the body regulate calcium and phosphorous which contributes to maintaining bone health. Vitamin D3 is commonly found in fortified foods and supplements and promising research shows benefits beyond bone support including helping with immune system support and aiding in muscle strength.*
Excellent source of selenium, a mineral found in soil, which neutralizes free radicals and supports a healthy

Skin Defense

Use Skin Defense daily on intact skin or for minor cuts, scrapes, burns, rashes, blisters, insect bites and dry skin. Play defense at home, at work or in the gym. Hypochlorous acid (HOCl), the key ingredient in Skin Defense, is a naturally occurring chemical that our white blood cells produce every day to fight off bacteria, superbugs and viruses. 

Antibiotic-free, steroid-free, alcohol-free
Non-toxic, non-irritant, non-sensitizing 
SILVER

Silver has been used extensively throughout history! The ancient Greeks, Egyptians, Phoenicians, Romans, and Macedonians all used silver to help keep them well. Hippocrates, the Father of Medicine, taught that silver supports health and well-being. Herodotus, the Father of History, believed that no Persian king would drink water that was not transported in silver containers. Throughout the Middle Ages, the upper class in Europe would use silver utensils and goblets to ensure safe food and drinking water. In America's West, it was common practice to drop silver coins into drinking water barrels to ensure the water's safety.