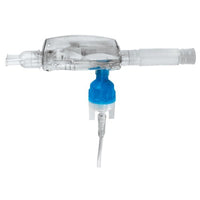 Acapella Duet Nebulizer & Vibratory PEP Therapy By Smiths Medical
Acapella Duet is a convenient and smart method for combining  Positive Expiratory Pressure, therapy and delivery. Select the Portex Acapella Duet to save time, money and patient effort . Featuring a one-way inspiratory valve, patients are able to inhale without removal from their mouth. In addition, the Portex features an expiratory resistance dial for customized frequency adjustments. To ensure patient comfort, the Portex Acapella Duet has a 22 millimeter O.D. connection that allows use with a mouthpiece or mask. Additionally, the Portex has a 22 millimeter port that will complement most standard SVNs. The SVN port features a tethered cap, which will help to reduce the risk of contamination while in resting position. The Portex's design also features a stand-alone design, which allows it to be free of an SVN attachment. Being extremely lightweight, this device makes it incredibly easy for patients to hold. Truly, the Portex Acapella Duet Kit is perfect for the administration of bronchodilator and mucoluytic treatments in conjunction with vibratory PEP therapy without requiring a tee adapter.
Acapella Duet Kit includes the Acapella duet, mouthpiece, Portex SVN, oxygen tubing, and a collapsible flex tubing.
Acapella Duet Features and Benefits
Allows inhalation without removal from mouth.
Can use with mouthpiece or mask.
Clear coloring allows visual recognition of cleanliness.
Collapsible flex tube serves as medication reservoir.
Comes in a complete kit.
Streamlined body design provides easy grip.
Does not require a tee adapter.
Easy disassembly and reassembly for cleaning or sterilization.
Expiratory resistance dial.
Lightweight.
Meets both high and low-flow expiratory requirements.
Tethered cap reduces risk of contamination when in resting position.
Patients can use in any position, including recumbent, standing, or sitting.
Reduces therapy treatment time.
Saves patient effort and money.
Will accommodate most SVNs.
May be used with mask or mouthpiece nebulizer.
One-way inspiratory valve allows inhalation without removal of mouth.
Functional in any position--standing, sitting or Trendelenburg.
Portex Acapella Duet Kit Specifications
Product Number: 27-9000.
Proximal: 22mm OD. Accommodates mouthpiece or mask.
10 LPM expiratory flow requirement.
Adjustable frequency and flow resistance settings.
Clear coloring aids in visual recognition of cleanliness.
Application: To assist with vibratory PEP therapy and nebulization.
Single patient use.
Manufacturer: Smiths Medical.
Brand: Portex Acapella Duet.
HCPCS Code: E0484.



Quantity Per Sell: 1
Item #: 27-9000